WE ARE EXPLORING TODAY...
English Club Com
Listen to News
Regular listening practice based on the weekly news, with pre-reading vocabulary, reading, gap-fill exercise, comprehension quiz and answers.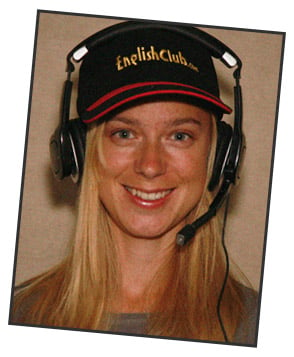 Each Tuesday EnglishClub publishes a
short audio news report in easy English from the previous week
. With this resource you can practise your listening, reading, writing and even speaking.
Preview the vocabulary and read the gapfill text.

Play the news report and try to fill in the blanks.

Answer the comprehension questions by writing full sentences.

Use the discussion question to write an essay or discuss the story with other students.

Pretend to be a news anchor by reading each story out loud.
Study the news story each week and watch your English skills grow!
Click "show Answers" to view the full text of the story and check the answers.
dateline: 31 July 2012: Soldiers Fill Empty Seats At Olympic Games
dateline: 24 July 2012: Gunman Terrorizes Moviegoers At Batman Film
dateline: 17 July 2012: Google Executive Becomes Yahoo CEO
dateline: 10 July 2012: Disney Comes To North Korea
dateline: 03 July 2012: Spain Wins 2012 Euro Cup
dateline: 26 June 2012: Egypt Celebrates First Freely Elected President
dateline: 19 June 2012: Daredevil Makes History Over Niagara Falls
dateline: 12 June 2012: Manhunt For Canadian Killer Ends In Berlin
dateline: 05 June 2012: River Pageant Celebrates Queen's Diamond Jubilee
APRENDE IDIOMAS LEYENDO PERIODICOS Y REVISTAS * LEARN LANGUAGES BY READING NEWSPAPERS AND MAGAZINES
Imprime de 20 a 30 renglones del texto que acabas de leer. Subraya de 10 a 20 palabras. Anótalas en columna en el espacio disponible abajo del texto o en el reverso de la hoja. Traducelas al inglés u otro idioma deseado. Anota el significado al lado de cada palabra. Repite lo anterior pero ahora con oraciones en lugar de palabras. Revisa tu trabajo y compáralo con el de otros compañeros. Muestra tu trabajo a tu profesor. Pídele que te sugiera otra actividad que expanda lo que acabas de realizar. Copia y conserva est trabajo, y el contenido súbelo a tu blog o página personal, y compartelo.
MY HOMEWORK NETWORK * NON-PROFIT SHARING RING * LANGUAGES * COLLABORATIVE SCHOOL PROJECTS * PROF JML * MEXICO